Saturday, January 18th, 2003

Yesterday was a strange day!
In the morning I took a long nap on one of my bed, well actually two, there's one on top of another, auntie tried putting one in her room, but I didn't sleep there, I like them both together for extra comfort, here's a picture of me sleeping, yesterday.




And yet another one of me sleeping in Grandma's room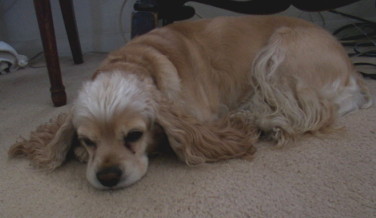 Then, in the afternoon she cleaned my hind legs, I get them a little dirty sometimes at the park.
Auntie says it's funny sometimes I get little sticks stuck on them and I walk like nothing happens, she is always taking them off.
After that they took me to the vet, they were a little worried because auntie felt a little lump in one of my nipples, mommy and grandma didn't feel anything, but auntie was concerned about that, so she and mommy took me to the vet.
I am happy to say that I passed the exam with flying colors, I am very healthy.
I was a very very very very good girl there too! I didn't bark at all, I behaved like a lady!
They took me in a back room to weight me and trim my nails, and the vet tech said I was very good.
So we are all happy about what the vet said, and auntie is now relieved.
After that uncle Fede came with his wife Jamie, and they played (with auntie) a little silly game with my tennis balls, and I was supposed to fetch them! It was fun!!

Here's a picture of me last Christmas (Dec. 25th), with one of my favorite tennis balls.




It's getting a little cold now, yesterday was about 48F but it felt like 40F, I wore my sweeter every time I went outside! Oh! I wore my sweeter to the vet too, and everyone at the clinic told me how pretty I looked and what a nice sweeter I had!

Go to Previous Post Here!
Read Next Post! Friday, January 31st, 2003