Sunday, February 2nd, 2003

Yesteday I had a great time!!!
They opened the doggy run at the park near my house! So we went to the "grand opening"!
It was so much fun!!I was very very very good and didn't pick a fight with any dog! There was the occasional growl, but auntie says I have the right not to like every single dog!
I did get a big scare one time, auntie was on the other side of the run and I was with my grandma, when auntie called me, I came running to her and 4 other big doggies started chasing me playing "follow the leader"! It was scary!I didn't want to be the leader!!
They just wanted to play, but they looked big and scary, so I went running back to my grandma whining and scared, I didn't know what to do to make them stop! Thankfully when I went up to grandma they left me alone!
I got over it and was ok after a while!
We stayed there longer and I sniffed more doggies, had a drink of water at the doggy water fountain, etc.
Then auntie and I entered two contests!! And we won one!! The first one was the owner-dog look alike contest, we won 2nd place!
The first place went to a Boxer and his owner.
And we got 1st place in the Best Trick contest!!!!!!!!! I did my "play dead" trick and charmed the audience!!! When I did it everyone said "AWWWW".
Mommy came to see me for the contests and cheered loud for auntie and I from the audience (with grandma too!)
I did very well, everyone is so proud of me and I am proud of myself!
Auntie says I am such a good girl!! The audience and doggies everywhere didn't bother me at all!
We saw a few cockers, but we mainly ignored each other, auntie said they were cute but non cuter than me.
The doggy run is divided in three parts, one for big dogs, another one for small dogs and the third one for any size dogs. They have water fountains at doggy lever and human level, and more! We went to the small dogs section first and started upgrading little by little so I got to be with different sizes of dogs not only small ones.
The doggies didn't bother me much, auntie was glad, a few came to sniff me and that was it, everyone was in their own world/game, and if they saw I didn't want to play, we just sniffed each other and left me alone. Auntie thinks we did a big step yesteday, I do too, I didn't leave auntie's or grandma's side much, but we got to see tons of dogs and people and I let a lot of people pet me without them giving me treats!
Mommy's camera was out of batteries, and auntie couldn't find hers! So they couldn't take the camera, it's too bad!
But here're three pictures of me at the park, they were taken on November. That's me wearing a t-shirt auntie made for me.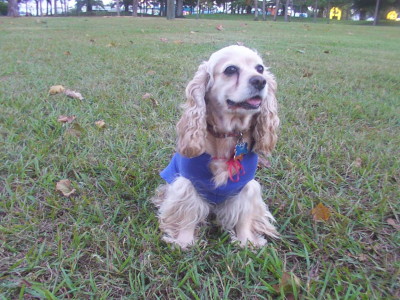 I like to smell the wind!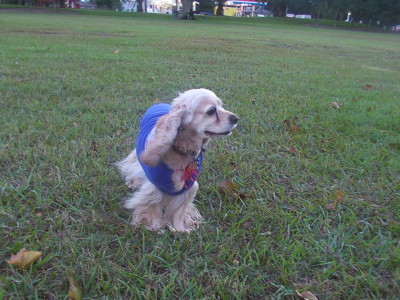 And here I am covered with leaves, auntie and mommy covered me with leaves, we thought it was funny! I even smiled for the picture!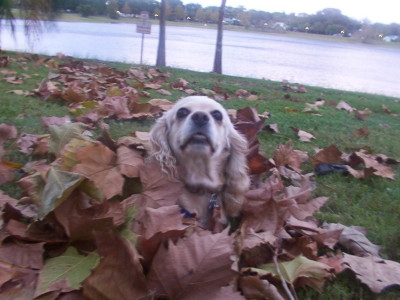 Have a nice day everyone!!


Go to Previous Post Here!
Read Next Post! Monday, February 3rd, 2003